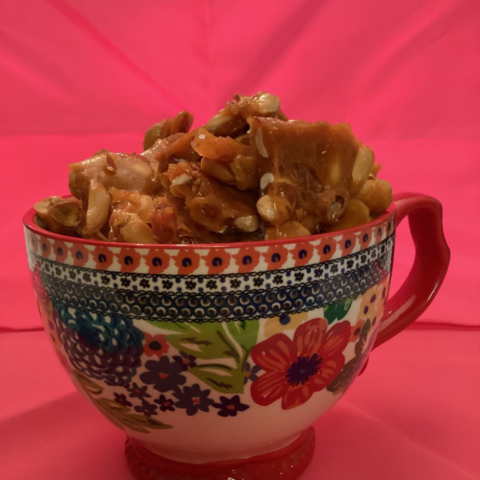 As a small child growing up in the hills of North Alabama, there was always one thing that would always make my ears perk up. That was my Daddy's announcement that he was making his special peanut candy.
"When will it be ready, daddy?" I would ask.
"About thirty minutes," he would reply. "I've got to shell peanuts first."
With those words, my stomach would prepare itself for one of my favorite childhood treats.
Although my father Auburn Brooks was a man's man, he was also quite handy in the kitchen and, while serving in the military, proved himself to be a capable baker. One of his favorite recipes he came away with from those days was the one for his famous peanut candy.
"Quick, easy and tasty," he would say.
The final product looked and tasted like peanut brittle, but it was much softer and chewier than its time-honored counterpart.
With great fondness do I remember those days I would sit in the front porch swing nibbling away at his fresh peanut candy and watching the world go by.
The following recipe is published exactly as he wrote it so the ingredients and amounts are included in the body.
Auburn Brooks' Peanut Delight
First, shell one pint of peanuts, then put peanuts in a flat pan.
Put in oven at 350 degrees; let roast for 15 minutes. While peanuts are roasting, use a four quart or larger boiler. Put in 1 1/2 cups sugar, 1/2  bottle of 16 oz. white Karo syrup and 1/2 stick of butter.
Bring to a boil and let boil for 10 minutes, no longer. When this is done remove from heat and put in 1 teaspoon soda; stir in very well. Next pour in peanuts and mix very well. 
Tear off a piece of foil larger than the cookie sheet you plan to use and place in pan. Butter the foil thoroughly.
Let candy set in boiler no longer than 10 minutes.
Pour out on buttered foil. I use a butter wrapper to flatten it out and spread.
Allow to cool for 30 minutes.
Break it apart and place in your serving dish.
Thanks for listening… and keep on smiling.
Audrey Brooks McCarver, August 22, 2022