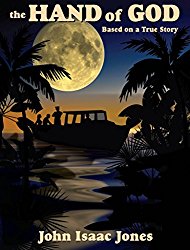 An African-American man is caught between his own demons and those of 1950s American society in this historical novel. Jones (Tembo Makaburi, 2017, etc.) tells the story of 24-year-old Bobby Lincoln, who lives in the coastal town of Palm Harbor in 1955 Florida.
With few jobs and no education available to him, he ekes out a living by fishing and doing any other work that he can find, often using his boat. But it's not enough for him or his common-law wife, Idella, who keeps threatening to leave him if he doesn't become a more effective breadwinner.
None of this is helped by his own love of gambling and his tendency to keep company with some of the town's best-known criminals. When a local gangster offers him $2,450 to take part in a serious crime, Bobby knows that it would break the heart of his deeply religious mother and disappoint a smart teenage boy who idolizes him.
But he also believes that it might be his only chance to keep his wife and get back some self-respect. One little boat ride quickly turns into a nightmare that consumes Bobby's life even as he tries to conceal it from others. As the situation spirals further out of control, he finds that there may still be a way to get the redemption he seeks, even if it takes divine intervention.
Overall, this book is well-paced, drawing readers into its time period without slowing the story down with excessive description. Bobby is a believable and mostly sympathetic protagonist; his personal character flaws are many and glaring, but it's enjoyable to watch him struggle to overcome them.
The book's flaws, by comparison, are relatively small: the author tends to use double exclamation marks in dialogue when they're not necessary, and he often tells readers what characters are feeling ("He liked being around him because he knew the teenager looked up to him") instead of showing it through their actions. By and large, though, the story rises above these issues.
Summary: An imperfect but often engaging tale of an imperfect man seeking redemption.